Services and Parish Information
Services at St Denys' are mostly 11am every Sunday. However, due to the current COVID situation services have not yet resumed.   CLICK HERE –  to keep up to date with announcements and service information.
For information on Weddings, Funerals and Christenings email office@2bsd.org.uk
For local wedding and event venues see Venues on Business Directory page
St Denys' Church
Stanford Dingley parishioners are lucky to be the current custodians of St Denys', a priceless piece of English Heritage. With relics of its Saxon origin within the interior walls, this grade 1 listed building is one of the oldest churches in Berkshire. It is of real historical importance and has been the focal point of village life in Stanford Dingley for over a 1,000 years.
Today's church is of 12th Century origin, but it still holds a Norman font. The Victorians decorated over painted medieval murals, which after recent restoration, fragments can now be seen.
The church in 2019 completed a large year long overhaul installing heating, a kitchen and toilets to make it a more comfortable place to enjoy.
A Brief History
The church is in origin, possibly one of the oldest in Berkshire. There was a small church here before 1066, of which the present building appears to be an enlargement.
The form that we see now is largely the result of building a little before and after 1200. The wooden bell tower, was not built on the old walls, but started at ground level inside them and dates from 1400. The oldest of the four bells was probably cast by John Mitchell of Wokingham and dates from the last decade of the 15th Century. The chancel was rebuilt in the 18th century.
In 1870, a major restoration was carried out in which a new porch was built, new windows added and regrettably some earlier features destroyed. In 1956 redecoration and refurnishing was undertaken, including new clergy stalls and lecterns, communion rail and credence table.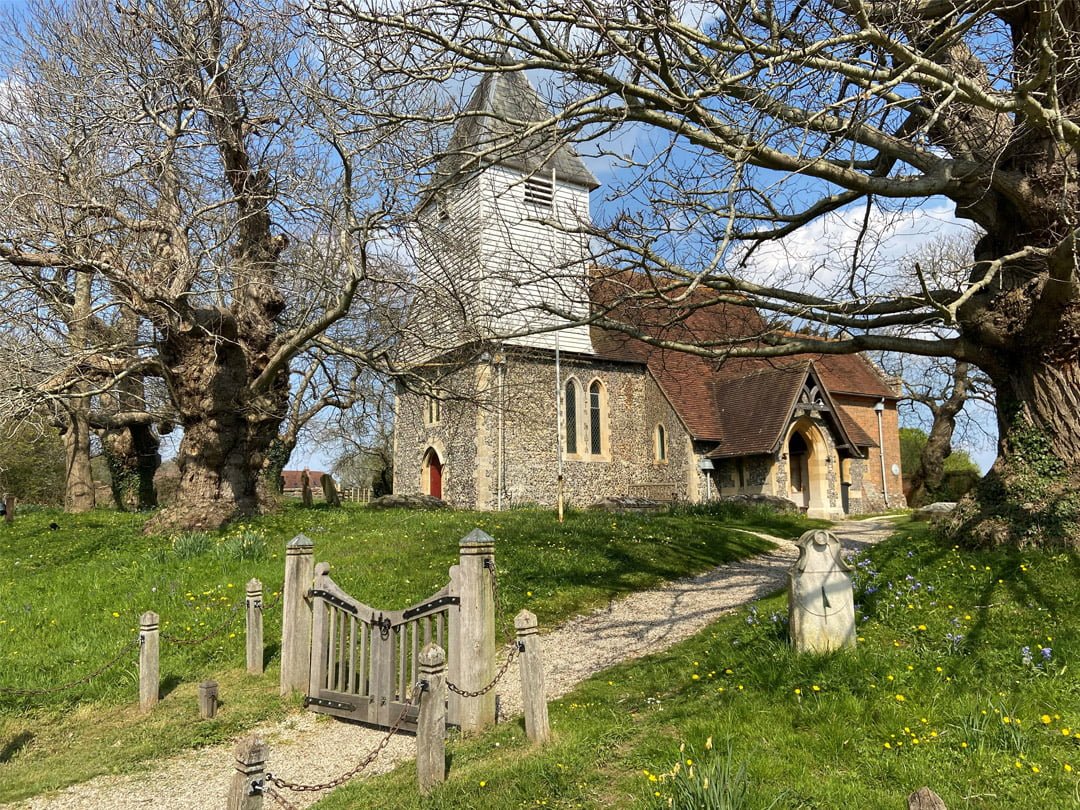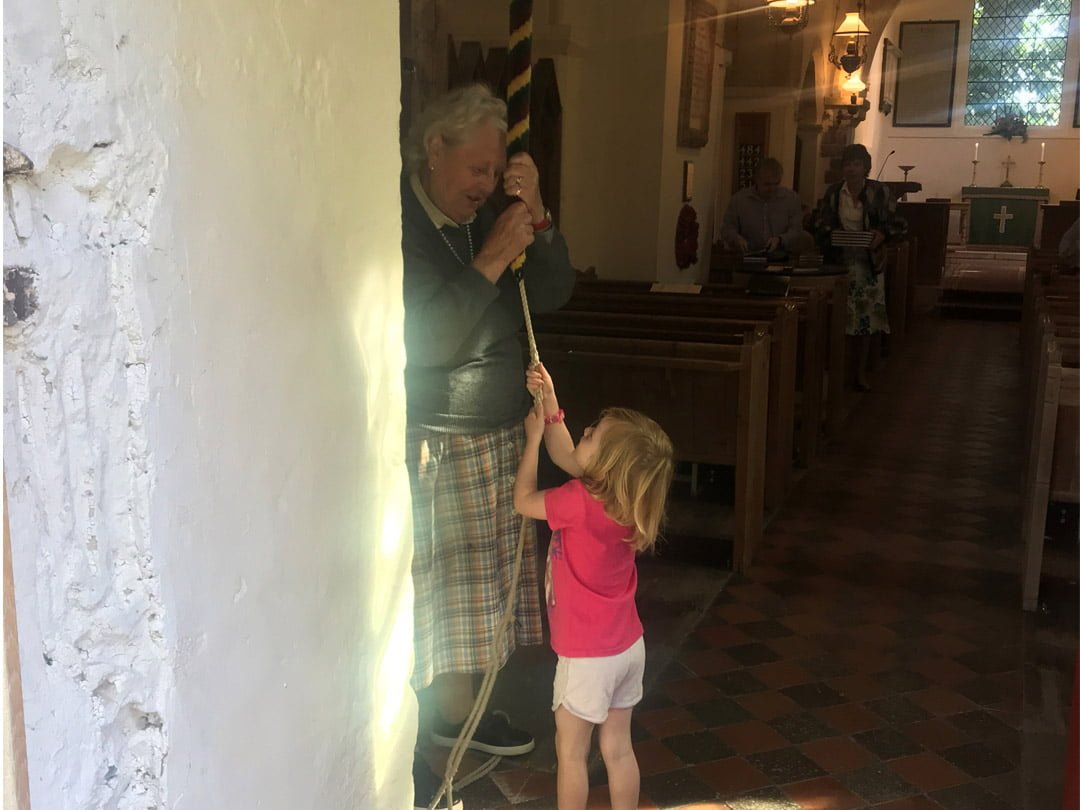 Interesting Facts
St Denys is over 1,000 years old:
It is believed St Denys is one of the oldest churches in Berkshire, of Saxon origin of which some original stonework still stands. It is possible the church was here when King Alfred the Great engaged in battle with the Vikings in 871AD – maybe he worshiped here!
St Denys:
 

Is the Patron Saint of France.

According to legend St Denys was martyred for his faith in Paris in the 3rd century by beheading. At once he picked up his head and walked into the city – where he put it down he was buried and on that spot a church built that bore his name
Emily Sparks installed the Electricity:
Emily was nanny to the rectors daughter and worked hard to raise money for the installation in 1932. A rather ironic surname!
Royal Arms Stolen:
The royal arms were stolen in 1976. A discussion of the theft was overheard by a lady having lunch in The Bull who said she had seen such arms in an antique shop in London. Police investigated and the antique dealer promptly gave them back!
800 hundred year old door:
The door is thought to be 13th century making it over 800 hundred years old – How many times has it opened and who has walked through!
Ring My Bell:
The oldest bell was installed in 1490, over five hundred years ago, and still sounds fine today!
The other two bells are inscribed "Henri Knight made this bell 1609" and "Henri Knight made me 1607"
Children:
There is an inscription in the floor of the North Aisle for John Lyford, merchant tailor of London who died in 1610 having fathered eighteen children!
Thomas Tesdale:
Was born here in 1547 and was one of the founders of Pembroke College, Oxford with Alumni ranging from Lord Heseltine to Oz Clarke to King Abdullah II of Jordan, and JRR Tolkein was a fellow!
Mystic Rector:
Francis Pordage, brother of renowned astrologer and mystic John Pordage was rector here in the 17th century
Pig Saga:
In Tudor times  churchwarden Ferdinando Clark caused a stir by letting his pigs rootle in the church yard, imagine that happening today!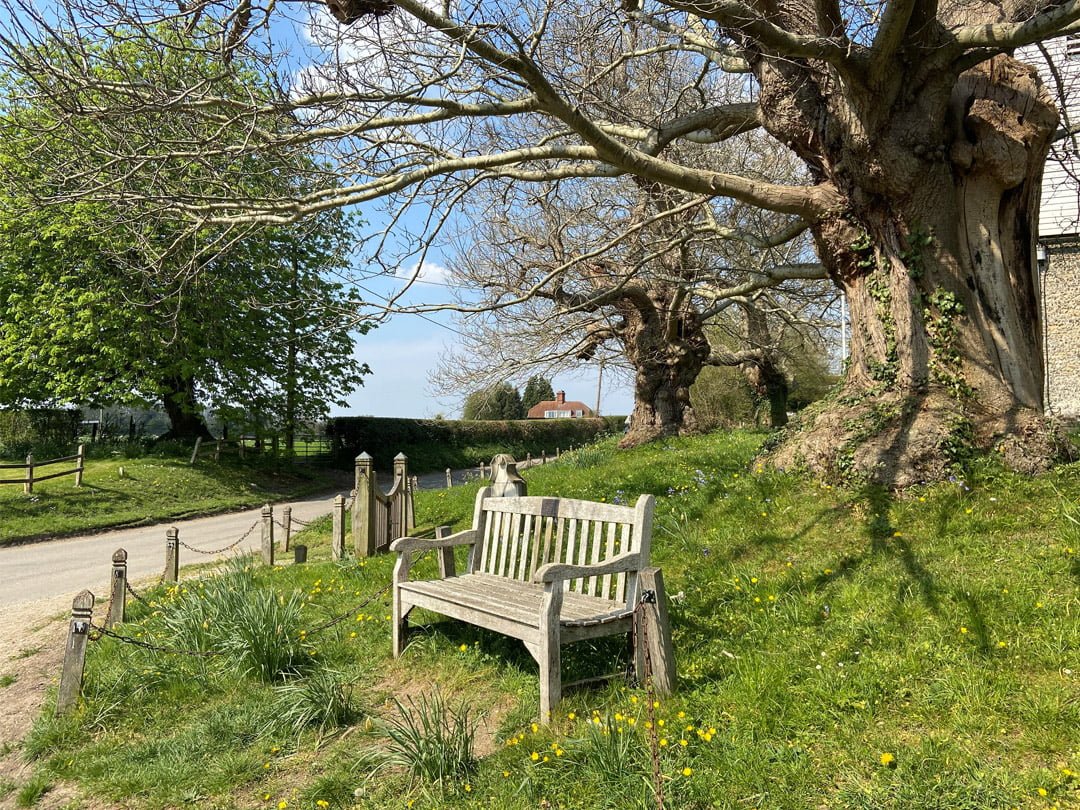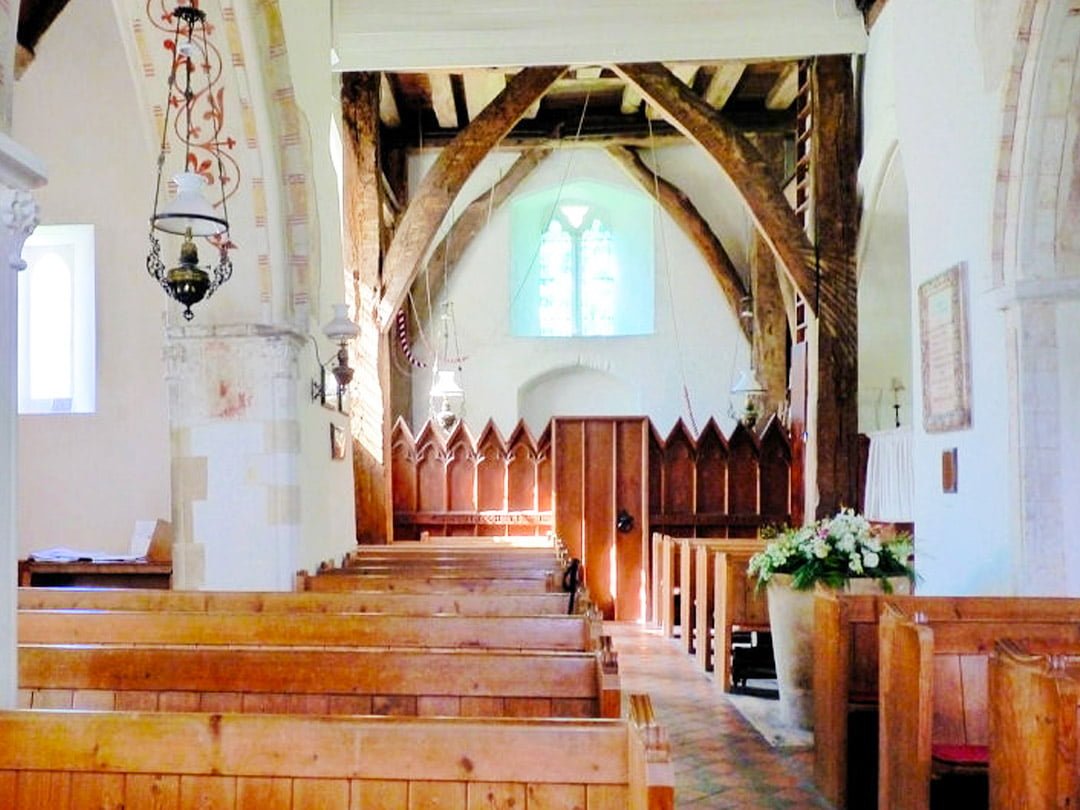 The Wall Paintings
During the 13th century the church was decorated with wall paintings, some fragments of which can still be seen. These would have been covered over in the Cromwellian period (1650s). Some paintings were uncovered during the restoration of 1870, including a large figure of St Christopher on the wall above the font. A watercolour, made at that time, hangs in the north aisle and gives an idea of what it looked like. The surviving paintings are now badly faded and the underlying plasterwork is unsound.
All the paintings in the church belong to the same 13th Century scheme. Cheap and readily available earth pigments (yellow and red ochre) and lime wash were used. Common decorative devices for the period form the main elements of the design including masonry patterns decorated with rosettes and vine scroll decoration enclosing trefoil-ended stalks. The subjects depicted remain for the most part unidentified but appear to be fragments of narrative cycles.
In 2003 Lisa Shekede and Stephen Rickerby, well known Wall Painting Conservators completed some emergency conservation work and conducted a condition survey. The latter included a quote to carry out essential stabilisation and presentation work (i.e. surface cleaning, removal of inappropriate materials and loss filling with lime plaster) on all surviving areas of painting.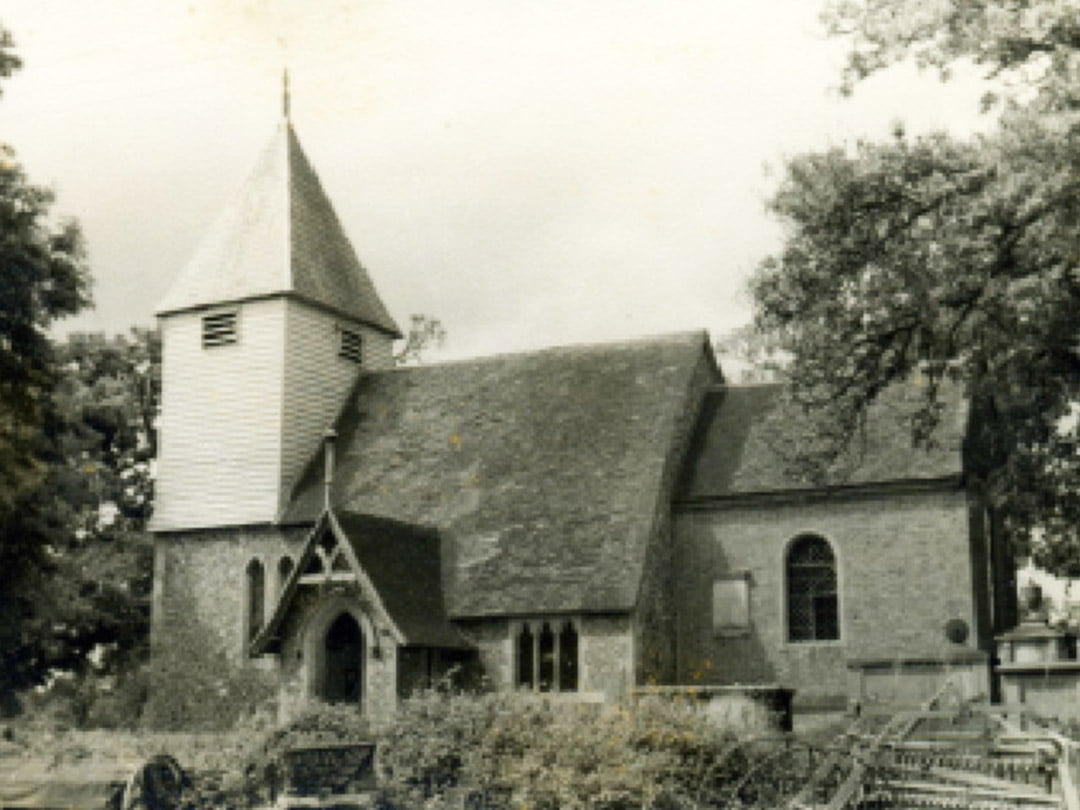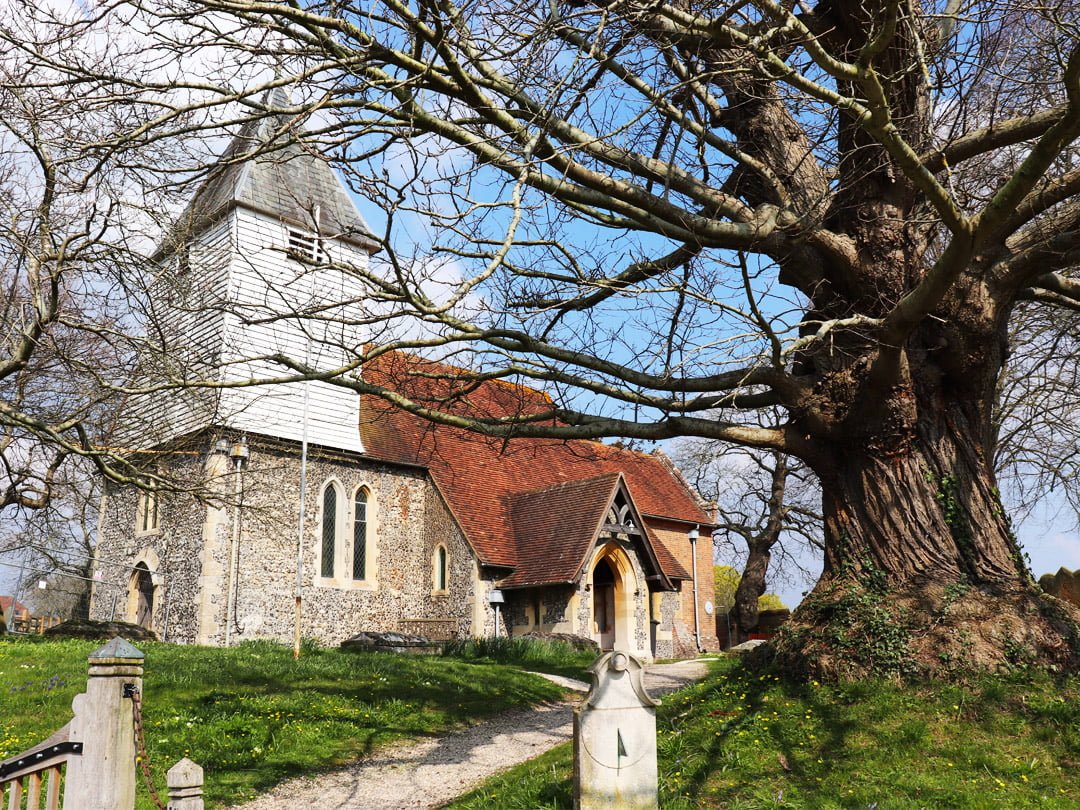 The Friends of St Denys'
is a charity set up to support the conservation of the fabric of the building of St Denys. To find out more and to donate please head to our charities page.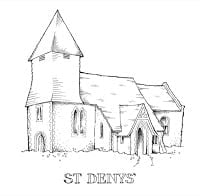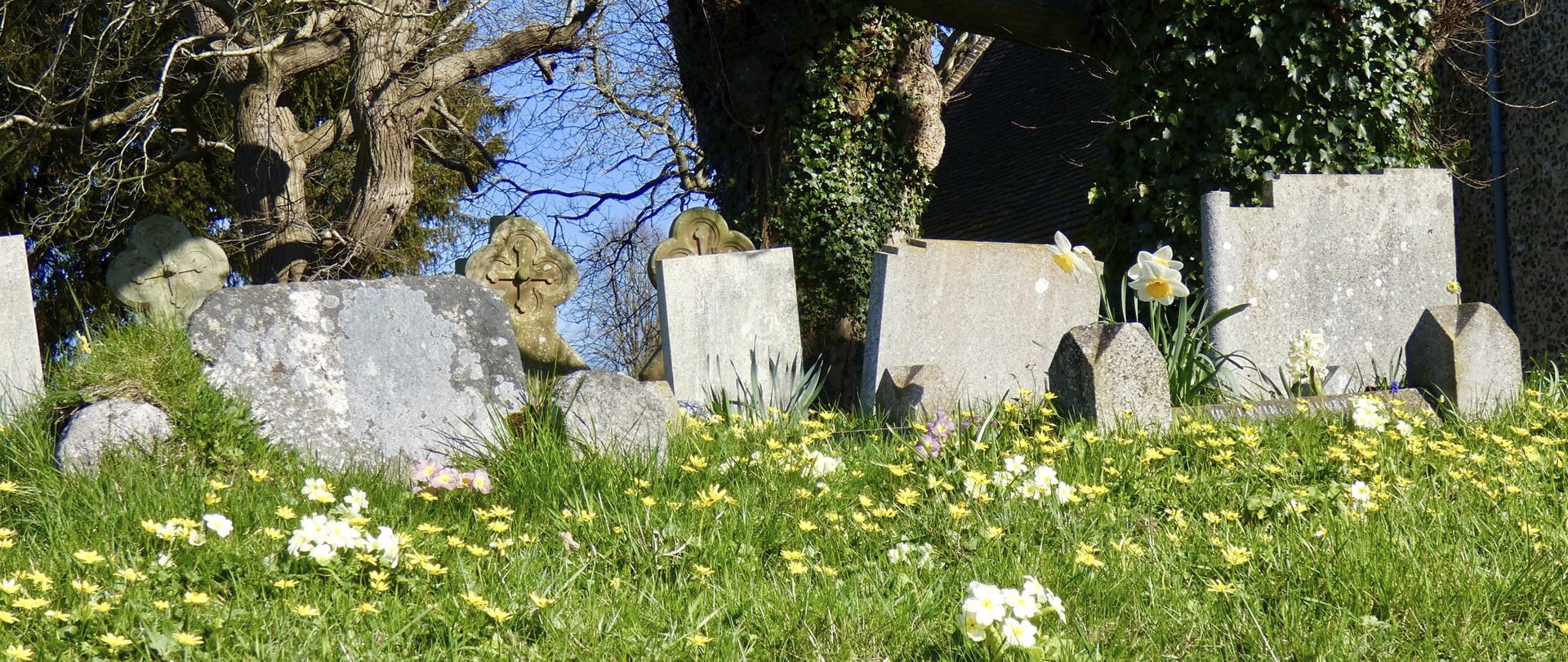 Escaped Sheep
Jeremy  07770 363997
Sophie 07760 219145
Dredge Gang
Darren Coleman & Andy Mackenzie 
Flood Warden 
Events
Hilary Dent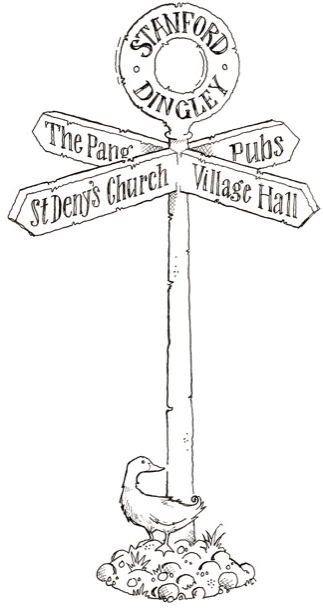 Contact Us
Please contact Helen to be put on the village mailing list.
Find Us
Stanford Dingley
READING
RG7 6LT
© Stanford Dingley Parish Council 2020