An update from your Parish Council
Introduction
Coronavirus thankfully seems to have had little medical impact on our community, but there has been an impact in communications and interactions in the village. The Village Assembly had to be postponed and the last two PC meetings have had to be held virtually via Zoom which has not been conducive for village participation. Hence the need for a general update after which hopefully we will be able to meet face-to-face as lockdown measures are lifted.
The first major point to make is that the support of the vulnerable and shielded through the village WhatsApp group, and general neighbours-helping-neighbours seems to have worked well. Thanks to Aisling Bucknell and others on the Ladies WhatsApp group for this success.
On to other things; the two major preoccupations the PC is working on are sewer flooding and village traffic. In addition there has been a lot of progress unifying and revamping our village websites. Read on to hear more.
Sewer flooding
2-3 times a year, villagers in the centre of the village are faced with sewer flooding from Thames Water's foul drains. Every year sewerage overflows into the road and gardens in the centre of the village and on occasions has flooded people's homes with devastating consequences.
This state of affairs has existed for at least the last 20 years during which time Thames Water has made zero progress in rectifying the problem. On the face of it, this is a simple problem to resolve; either TW find out where storm water is entering their sewers or they upgrade their pumps at Bradfield Farm to handle the surges.
TW will argue that this is a complex problem, but whatever the complexity, it is a TW problem, that they need to solve.
Fundamentally, this is a health issue. It is unacceptable to have a pool of untreated sewerage in the centre of our village on the road, in gardens and in people's homes. It is not safe that villagers, our children, our dogs, walkers, cyclists and speeding vehicles (with attendant bow-waves pushing more raw sewerage into peoples' homes) are spreading the health risk.
In the light of this, we have resolved to mount a major campaign to get Thames Water to rectify this, drawing in the support West Berks Council, the Environment Agency, our MP and District Councillor and the press.
We can reveal more details of the campaign shortly. We are working to build a portfolio of statements from those villagers directly affected, but we are also keen to garner statements of support and solidarity from the wider community for us to include in the complaint.
SDPC
Escaped Sheep
Jeremy  07770 363997
Sophie 07760 219145
Dredge Gang
Flood Warden 
Events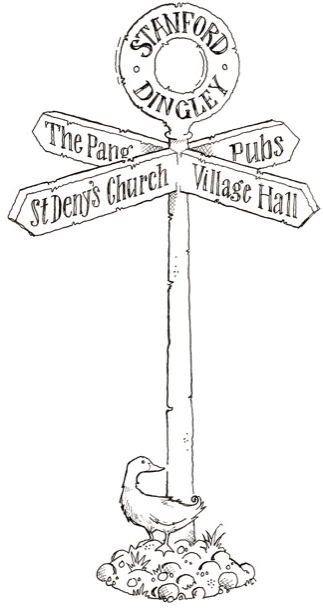 Contact Us
Please contact Helen to be put on the village mailing list.
Find Us
Stanford Dingley
READING
RG7 6LT
© Stanford Dingley Parish Council 2020